---
---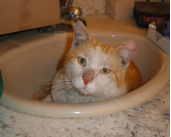 Dennis looked quite old when he was rescued, sporting a tattered ear with more dirt than white on him.  He looked so bad that it was quite probable that he had feline leukemia or feline AIDS, and wanting to give him a chance at a good life, his neutering was postponed. He immediately adjusted to his foster home, and was quite happy in the bed that he had made for himself in the sink in a guest bathroom. He was very appreciative of having someone to care for him and having food provided without searching in dumpsters. A couple weeks later he was finally neutered, and was fortunately given a clean bill of health. Once he shed the dirt he had accumulated living on the street, he again looked his age of only 2 years. And then Dennis found a home.
From his adoptive family:
We are all doing great. Dennis is no longer Dennis. We call hi Puddy..Like Puddy Tat.
I think he really loves us as he has taken over the house. He is a very loving & talking cat.
It only took about 2 hrs. before Pepe & Puddy really go use to each other.  Did you know that Puddy knows how to talk to birds? Isn't that funny? Yes, he sets in my living room bay window and chirps to the birds. I am going to take a video to prove that he really can do it. Thank you again for rescuing Puddy and allowing us to adopt him.
---
---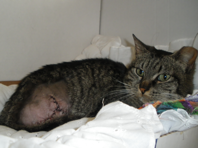 A Forgotten Felines volunteer received a call last winter about an injured kitten that had been spotted. In talking with neighbors the volunteer learned that the kitten had gotten its leg caught in a chain link fence as she was scaling it, and her leg was severely broken. Observers remembered her cry of pain when it happened. After many, many attempts to trap her, she was finally rescued. Her broken and infected leg was removed, and she recuperated in a foster home. Then Benni, as she was named, began making the transition from a frightened young cat into one that purred when picked up. She learned to navigate around quite well on her remaining 3 legs, and didn't hesitate when jumping up on her elevated cat condo/ scratching post. Then the quest began for a special human to adopt a special cat, and that someone was luckily found.
Benni now is in a wonderful home and loves her new human friends.
---
---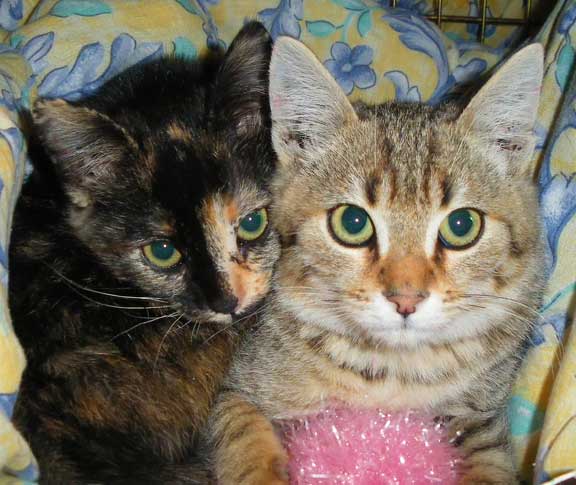 A new feral colony began with a call from a friend one Sunday late November. She had spied a kitten that morning in an industrial area in north Denver. Returning in the afternoon she found the kitten alone in a deserted fenced lot and called me. We were able to trap the kitten and also discovered that the junkyard next door was her home along with other kittens and feral adults. Within several days, 3 female adults were trapped, spayed and returned to their home where they are being fed regularly. 3 kittens including Pumpkin & Tuddles were socialized and the quest for a loving home began. Several other cats living in the junkyard were also trapped and neutered/spayed.
Pumpkin and her friend Tuddles were adopted together to a loving home. In the process of trapping the feral cats, an adult male was also trapped, a dirty orange and white boy we named Dennis who turned out to be a very sweet 2-year old.